Tuning Shop | Mount Pleasant of Edinboro
Quick Services
Quick Tune: $5.00
Hot Wax: $15.00 - ski; $18.00 - snowboard
Hot iron wax, scrape and brush.
Quick Tune & Wax: $18.00 - ski; $20.00 - snowboard
Side edge tune, wax, scrape and brush.


Drop-Off Tunes
Fine Tune: $30.00
Fine grit polishing grind for base and base edge, side edge tune and hot iron wax to enhance performance for skis that just need a little polish.
Medium Tune: $35.00
Medium and fine grit grind for minor base scratches and/or base edge dings, side edge tune and hot wax for skis that need a face-lift.
Heavy Tune / Rust Service: $40.00
Heavy, medium and fine grit grind service to repair base damage, rust or uneven bases. Also includes side edge tune and hot wax for skis that need a good dose of TLC.


Tuning Shop Extras
Snowboard Screws: $0.50 per screw
Stomp Pads: $5.00 - $10.00

Ladder

Straps: $8.00 - long, $6.00 - short
Board Buckles: $4.00

Leashes: $8.00


Board Binding

Mount: $5.00

Ski Binding Check

: $5.00 -

Checks fit to boot, DIN setting and proper functioning.
Ski Binding Mount (includes binding check): $10.00 - rail system, $25.00 - fixed (We can only mount certain bindings. Please consult with a rental tech)
P-Tex (ask ski tech for quote): $5.00 minimum - Repairs deep scratches in base material.


Why Tune?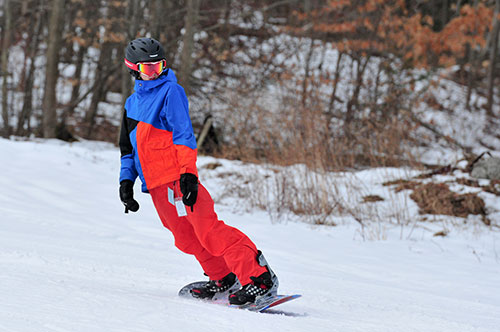 Noone likes having equipment that's difficult to ride or is unsafe. Tuning and maintaining your equipment is important because it helps you use less energy while riding as well as decreases your risk of accidents. Professional edge grinding ensures uncompromising grip even in icy slope conditions. Dull, rounded edges or damage such as nicks or burrs will no longer allow your skis or snowboard to grip the snow which helps you carve your turns.
Worn edges can be particularly hard to ride on during firm or icy snow conditions. Using side edge tools can also quickly bring back that new ski feel with a few simple steps. The base edge can be sharpened at our repair shop to give you a proper bevel. Tuning your equipment creates a feeling on the slopes which you'll never want to be without again!


Why Wax?
Back in the early days when all skis had wood bases, skiers had no choice but to wax them regularly if they wanted to slide properly on snow. Along with the introduction of polyethylene bases (p-tex) came the assumption that skis no longer needed waxing. This was wrong because p-tex is a thirsty plastic that needs frequent wax feedings.
In no time at all, the number of skiers who waxed their skis flip-flopped from 97% who did, to 97% who didn't. That's pretty much where it remains today. Amazingly, only 3-4% of skiers or snowboarders bother to wax their equipment. The performance these folks lose because of this misunderstanding is significant. A waxed base is about 30% easier to turn, more durable and faster than an unwaxed base.
P-tex bases can easily lose their ability to absorb wax efficiently. The most common cause is simply neglecting to wax regularly. The high friction of snow acts like sandpaper to abrade the base, wear off wax and leave the p-tex dried out.