Trails | Mount Pleasant of Edinboro
Have the best winter fun by exploring the wondrous trails of Mount Pleasant. Most of our trails are lit up at night to allow for safe night skiing and snowboarding. Mount Pleasant has one 2,400' triple chairlift available as well as a beginner lift in order to provide easy access to the trails. Whether you're a beginner or expert, we have multiple trails available for any skill level. Mount Pleasant has 10 trail runs serviced by our chair, Highlander's Triple.
Trail Status
Regular Trails (Snowmaking and Night Skiing)

Trail Name

Difficulty

Status

Groomed

Snowmaking

1
Chestnut
Advanced
CLOSED
YES
YES
2
Spirit of '76
Intermediate
CLOSED
YES
YES
3
Upper Quaker
Beginner
CLOSED
YES
YES
4
Lower Quaker
Beginner
CLOSED
NO
YES
5
Revere's Ride
Advanced
CLOSED
CLOSED
NO
8
The Meadow
Beginner
CLOSED
YES
YES

All Natural Trails (No Snowmaking or Night Skiing)

Trail Name

Difficulty

Status

Groomed

Snowmaking

6
Merrick's Patrol
Intermediate
CLOSED
POWDER
NO
7
Liberty
Intermediate
CLOSED
YES
NO
9
Morris Pass
Intermediate
CLOSED
POWDER
NO
10
Laura's Lane
Beginner
CLOSED
YES
NO
Indicates currently making snow or has occurred in the last 48 hours.
PP= Packed Powder P= Powder TC= Thin cover MG= Machine Groomed NS= Natural Snow
Trail status may vary. Last update 3/18/21 7:30 AM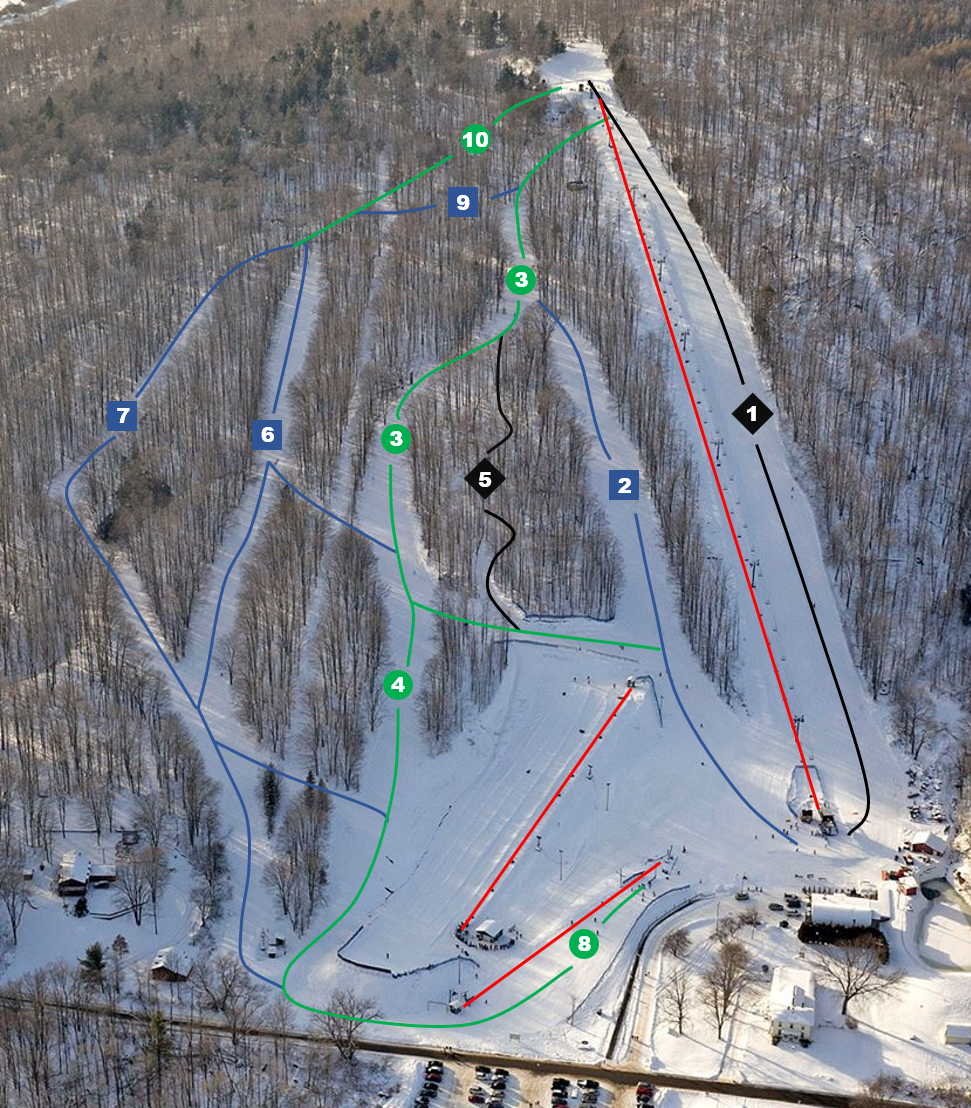 Trails at Mount Pleasant include:
Meadow - 300 ft.
Morris Pass - 400 ft.
Glade Run - 600 ft.
Revere Ride - 700 ft.
Lower Quaker Run - 900 ft.
Spirit of '76 - 1200 ft.
Merrick's Patrol - 1600 ft.
Liberty - 1700 ft.
Chestnut - 2000 ft.
Upper Quaker Run - 2500 ft.


Safety's First
The staff of Mount Pleasant wants to be sure the trails are the safest they can possibly be. When skiing or snowboarding, make sure you ride in control so you are able to stop or avoid others. Try to avoid stopping in the middle of a trail to help fellow skiers and snowboarders have a smooth ride down.
When entering a hill or starting to go downhill, yield to other riders and be cautious of people and objects around you. When riding, all skiers and snowboarders should wear retention straps or other devices to help prevent runaway skis and boards. Be sure to observe any signage on the trails. All skiers and snowboarders are required to keep off closed trails and posted areas.