Ski Lessons in Erie, PA | Mount Pleasant of Edinboro
The Snyder Ski School of Mount Pleasant is proud to be a member of the Professional Ski Instructors of America. Whether you're just starting out or already know the basics, we offer plenty of opportunities for everyone to learn to ski or hone those skills you already have! The Snyder Ski School is home to 35 ski and board instructors who train and teach daily. Our experienced ski instructors will work with you to help you reach your personal ski or snowboard goals.


"Mount Pleasant ski program and staff provide an exceptional experience that keep us coming back year to year. We appreciate the consistency in highly qualified instructors who truly enjoy grooming our skills while making each week fun. We are pleased to say that entrusting our children to Mount Pleasant has enriched each of them with what skiing is all about." -Steve Preston, March 2016
Private Lessons
Private lessons are a great way to work one on one with an instructor to hone your skills. Lessons are available nightly on weekdays and at select times on the weekend. Please contact us for specific times or call us at 814-734-1641.
One student for one hour: $30.00

*Pre-registration is required. Lift ticket and/or rentals are not included.*


Beginner's Special
Little Beginners: Ages 3 - 9
90-minute lesson, private or semi-private
Rentals included plus all area ticket valid all day, even after your lesson
$75 for each participant
Big Beginners: Ages 10 and up
90-minute group lesson
Rentals included plus all area ticket valid all day, even after your lesson
$50 every day and for each participant
Beginner's Special lessons are offered anytime during the week and are offered at 10, 12, 2, 4, and 6 o'clock on the weekends and holidays. Lessons will start promptly at these times. No preregistration is required but please arrive at least 30 minutes prior to the lesson time to ensure a full lesson. Beginner's Specials are offered to first-time skiers and snowboarders only! If you have the experience, try our Rent-A-Pro or private lessons!
Mount Pleasant Rent-A-Pro
Mount Pleasant offers the Rent-A-Pro program as an option for those who want to customize their ski lessons. It is a series of up to 10 private lessons with an instructor of your choice. After choosing an instructor, you and your instructor will then agree upon times and dates that fit both of your schedules. The Rent-A-Pro program includes up to 10 lift tickets and 10 one hour lessons.
| | | |
| --- | --- | --- |
| Number of Lessons | Price of Lesson & Lift Ticket | Price With Rental Included |
| Two | $77.00 | $96.00 |
| Three | $110.00 | $138.00 |
| Four | $141.00 | $176.00 |
| Five | $168.00 | $210.00 |
| Six | $192.00 | $240.00 |
| Seven | $213.00 | $266.00 |
| Eight | $230.00 | $288.00 |
| Nine | $245.00 | $310.00 |
| Ten | $260.00 | $330.00 |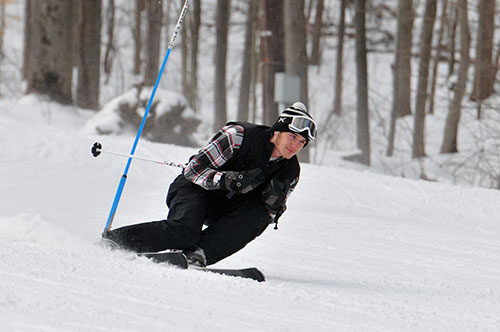 Snokids, Snoparents and the After School Program
Looking for something other than a one-time lesson? Check out our signature 6-week lesson programs! They are an excellent opportunity for the beginner skier or the pro!
Mount Pleasant Lesson Programs
Lesson Resources