Skiing & Snowboarding Programs | Mount Pleasant of Edinboro
Mount Pleasant of Edinboro offers various programs to bring you the most enjoyable winter fun. We offer the SnoKids and SnoParents programs which all run for six weeks. Mount Pleasant also offers a six week after school program for schools looking for exciting extracurricular activities for students. By enrolling in one of our programs, you will also be given the opportunity to make friends and engage with others who share the love for snow sports. Challenge yourself and let our professional instructors show you the way with snow sports.


"These young men and woman are such wonderfully positive and nice people. My 4-year-old had never skied and at the end of week four was doing the big hill and at the end of week six was fist bumping my husband as he hopped off the ski lift! We are amazed at the skills my 8-year-old skier turn 1st-time snowboarder has acquired over the past six weeks. We HIGHLY recommend this six-week program to any parent considering it." -Melisa Mauro, February 2016
SnoKids
Snokids will TENTATIVELY start January 19th and 20th!
PRINT-OUT SNOKIDS REGISTRATION
Program Details:
All age groups

All day lift pass good on your day, all season. Even after lessons are over!

Group Lesson - 1.5 hours

Ski and snowboard before and after your lesson!
Sessions: Saturdays and Sundays at 10:00AM, 12:00PM and 2:00PM
Price: $160.00 Rentals: $50.00

Snokids and Snoparents is the ideal way to break out of the dreary winter weather and enjoy the snow as a family! The Snokids program uses games and props to promote an engaging learning environment for kids as young as 4 to help them learn to ski or snowboard. We maintain an instructor to student ratio no greater than 4 to 1 for beginners to promote individual growth and mastery. As a result, please register early. We will cap all session at approximately 75 students. For more information and questions contact us here.
SnoParents
PRINT-OUT SNOPARENT REGISTRATION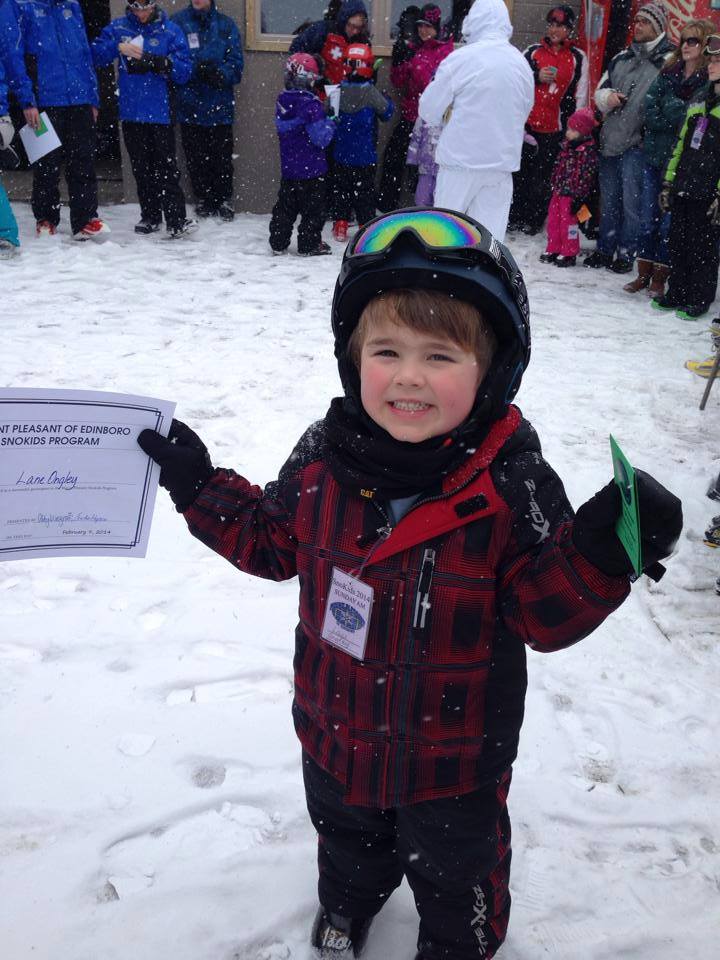 Program Details:
All day lift pass good on your day, all season. Even after lessons are over!

Group Lesson

Ski and snowboard before and after your lesson!
Sessions: Saturdays and Sundays at 10:00AM, 12:00PM and 2:00PM
Price: $160.00 Rentals: $50.00


Parents can take lessons during their children's lesson time, beginning 15 minutes after the children start and ending 15 minutes before the children finish. Snoparents is a great way for parents to antiquated themselves with winter sports and start family ski/snowboard traditions!
These programs include a lift ticket and a group lesson. The target start date for all two programs is January 19th, 2019. There is an extra $50.00 fee for ski or snowboard rental. Pre-registration is highly suggested to reserve a spot, but participants may also register the first day of the program if space allows. Please arrive early to register.
SnoKids and SnoParents program passes are accepted for the remainder of the season on the scheduled day and time once the program has been completed. Post six-week session does not include rentals. There are no refunds after registration and/or purchase of a SnoKids or SnoParents packages.


Questions about the program? Don't hesitate to ask us here or email Andrew.
Sign up for Snokids or Snoparents here!
After School and Ski Club Program
Mount Pleasant's most affordable learn to ski program!
We welcome any group of at least ten participants
Program is $140
We work together to pick a day and time that is available
Includes six weeks of lessons, lift tickets and rentals if needed

School group passes are good for their designated nights for the entire season after the program begins

Group advisors receive FREE program passes based on the number of participants

Target start date is January 8th, 2018

Contact us to see if your group participates

Every effort will be made to make up lost lessons due to unforeseen circumstances at the end of the season
Please return this registration form to group advisor or Mount Pleasant with a detailed listing of what club you wish to be included with.
Please contact us if you would like your clubs contact information!
FRIDAY NIGHT SKI PROGRAM
Want to ski with us but your school doesn't participate or the time frame doesn't work for you? Join our Friday night group! This program will start on Friday, January 11th. The lesson starts at 6:30 and will include six weeks of 1-hour lessons, rentals, and a lift ticket good EVERY FRIDAY! Please fill out the form below and return to the lodge by January 1st. All Applications after that time will incur a $10 late fee.
MONDAY

TUESDAY

WEDNESDAY

THURSDAY

FRIDAY

SATURDAY

SUNDAY

Union City 3:30

The Learning Center 5:15

Cambridge Springs

4:00, 5:15 and 6:60

MAMS 4:30

Saegertown 3:30

WES Bisons 5:15

Parker Middle School 3:30

PA Cyber 4:00

Mckean/Edinboro Elem (on bus) 4:15

CBCA 5:00

Edinboro Elem 6:30

Parker Middle School 3:30

Waterford 5:15

FRIDAY NIGHT CLUB 6:30

SNOKIDS 10, 12, and 2

Conneaut Lake Elem 4:00

Northwestern 4:00

Fairview Elem and MS 5:15

Edinboro Elem 5:15 and 6:30

SNOKIDS 10, 12, 2
Want to form a group?
We are always looking to expand our After School Ski and Snowboard Program! If your church, school, youth group, boy or girl scout troop, or any other organization would be interested in participating please fill out the form below! Somebody will be in contact with you to discuss a program! Depending on group size, the group advisor may receive a FREE season pass for their efforts.