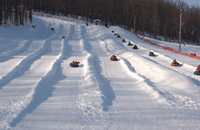 Thank You, Patrons and Friends of Mount Pleasant!
We persevered, made snow, and made more snow and managed to stay open 62 days this season! Due to weather conditions, Sunday the 17th will be our last day.
Your support and encouragement kept us going and seeing the smiling faces on the kids as they enjoy our product is priceless.
Thanks for all you do to support this community treasure,
Doug and Laura Sinsabaugh