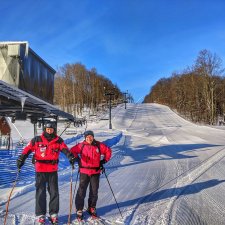 National Ski Patrol at Mount Pleasant is a perfect way to give back to your community! Mount Pleasant Ski Patrol is a hard-working, enthusiastic group of skiers and snowboarders, serving Mount Pleasant Ski Area by helping other skiers and snowboarders! Each patroller is trained in Outdoor Emergency Care, CPR, and other rescue skills.

Mount Pleasant Ski Patrol is a part of the National Ski Patrol System, a member-driven, non-profit organization that values service, camaraderie, leadership, and integrity. Our local patrol supports and participates in the outdoor recreation community by providing emergency care, rescue, and educational services.

Benefits of ski patrollers include:

A free seasons pass for the first season, upgradeable to multiple family seasons passes dependent on years of service
Discounted skiing and snowboarding at resorts across the country
Discounted skis, snowboards, and associated gear
Reduced meal rates at Mount Pleasant
The sense of fulfilment and community involvement by learning a lifelong skill that is Outdoor Emergency Care
All patroller benefits are based on time served and completion of a typical ski patrol schedule.

We will be hosting an informational and registration meeting for all interested candidates on Wednesday, July 11th at 6:00 at the lodge! Come out and ask questions and get signed up! The course cost is $145 and checks can be made payable to Mount Pleasant Ski Patrol. If you are unable to make the meeting or have additional questions, please email Andrew at andrew.halmi@skimountpleasant.com.