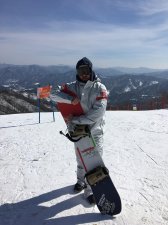 We are proud of Edinboro native Rick Shimpeno as he prepares to coach the US Men's and Woman's Snowboard Halfpipe team in the Olympic games starting tomorrow! Rick took time out of his busy schedule in South Korea to answer a few questions we had for him in regards to his experiences as coach and advice for all the young boarders and skiers out there. Best of luck to Rick, the US Men's and Women's Halfpipe Team and Team USA in this years Olympics!
MTP: What positive life influences do you see from young athletes that may ski or snowboard?
Rick: This one is huge for me, I really believe that after facing challenges on the hill some of life's challenges are a bit more manageable. We learn how to cope with adversity and keep moving forward towards our goals out here. I see the grit and determination in the guys and girls I work with and I'm sure it comes from growing up in the mountains.

MTP: Is it ever too late to start skiing or snowboarding?
Rick: No. Pick a soft day, take a lesson, and have at it. You can do these sports safely for many, many years.
MTP: What benefits do see as skiing as a family sport?
Rick: It really opens up the possibility of having fun in the snow. Skiing and Snowboarding are so basic to me, like sled riding. There is nothing so pure and simple as flying down a snow-covered hill on a snowboard. Some of my best memories as a child are from winter, surrounded by family and friends, and maybe some hot cocoa.
MTP: What is your first memory of Mount Pleasant? Best memory?
Rick: I obviously learned to ski and snowboard at Mount Pleasant, so it is an extremely special place for me. I remember skiing and snowboarding until midnight on Friday nights! This was such an Awesome time when you are a teenager. We used to hit a jump on Quaker we called the Oak Tree Jump. We were always looking for jumps.
MTP: Have you always snowboarded, or did you start as a skier?
Rick: I started as a skier. I was always trying to jump and get in the air. I never really did the ski racing thing. I wanted to jump and spin. This was way before parks and rails and for sure halfpipes but I was always more interested in the 'freestyle' aspects of skiing and riding.
MTP: How long have you been coaching snowboarding?
Rick: My first gig was with the Aspen Valley Snowboard Team in '95/96, so over 20 years. I was an instructor at Peek and Peak '94,'95 as well. I have worked for some great programs and have met some amazing snowboarders along the way. =
MTP: What is your coaching role with the snowboard team?
Rick: I'm one of two Snowboard Coaches for the Men's and Woman's Halfpipe team. The other is Rick Bower who has gone through 3 Olympics and was an athlete himself. We train year-round with the crew and spend time in Europe, New Zealand, Korea, and the western US.
MTP: How many games have you coached at and do you have a favorite?
Rick: This is my first Olympic Games and it's an amazing experience. I have coached at the Grand Prix's, the US Open, and the X games over the years. It's amazing to see first-hand what these athletes are capable of.
MTP: For the all the young skiers and snowboarders at Mount Pleasant today, do you have any advice for if they want to make a pro career?
Rick: I tell people all the time that you can get VERY good at skiing and snowboarding at small resorts without big jumps and halfpipes. Spend time on the basics of turning and jumping; it takes many hours to perfect these things. There certainly is a point where you need access to jumps and a pipe, but you can take some steps at your home resort.
MTP: When are you going to come back and snowboard with us!?
Rick: This season is a bit busy, but I do have some gaps in the schedule coming up and I would love to come ride. I have been coming back in the Summers, but I can see a winter trip in the near future! I still have all my season passes (probably '86-'90 or so) In a box at home. I can't believe that there is a chair lift!!!