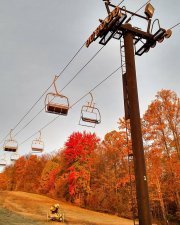 3rd Annual Fall Harvest Celebration
Come join us for Mount Pleasant's 3nd Annual Fall Harvest Celebration on October 6th, 7th and 8th.
Friday, October 6th:
Mount Pleasant of Edinboro proudly presents its first Fall Harvest Celebration Dinner from 5 – 8pm! Guests can choose from two main dishes: Robyn's Famous Fish Fry (approximately 8-12oz.) ($20) or Prime Rib (approximately 12-16 oz.) ($25). Both dinners include:
Homemade Coleslaw, Large Baked Potato w/butter and sour cream or Rice Pilaf, Baked Beans, Homemade Corn Bread and Sherbet for dessert. Also included is a beverage (Coke products, coffee, tea or bottled water). Adult beverages will be available for a donation.
Relax as you listen to live entertainment and eat your meal in our cozy lodge!!
The Annual Fall Harvest Celebration Dinner is available by reservation only and seating is limited. To sign up, please follow the prompts below (fill out one form per person). CASH or CHECK ONLY due the evening of the dinner.
Saturday, October 7th:
We are pleased to introduce the inaugural "Mount Pleasant 5K Challenge". This is a challenging run/walk and mountain bike race up and down the mountain with over 800' of vertical change! Prizes will be awarded for men's and women's overall bike and run/walk races. The run/walk begins at 10:30 and the bike race will follow at 12:30.

To register, please sign up here. Be sure to register before October 1st in order to reserve your t-shirt!
In addition to the 5K Challange, we will offer chairlift rides, ski swap, assorted food vendors and a Tree Scavanger Hunt from 10 to 5.
Sunday, October 8th:
Sunday will be KID'S DAY from 11 to 5, including magic and balloon shows throughout the day, bouncy houses, pumpkin art and face painting. We will also have a Kids Fun Run at 1:30. Chairlift rides will again be offered on Sunday. While at the top, hike over 2 miles of trails, enjoy the changing leaves and complete the Tree Scavenger Hunt!
Along with kid's fun and ch