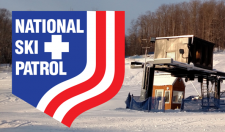 We are looking for new ski and snowboard patrollers! Mount Pleasant Ski Patrol is a hard-working, enthusiastic group of skiers and snowboarders, serving Mount Pleasant Ski Area by helping other skiers and snowboarders! Each patroller is trained in Outdoor Emergency Care, CPR and other rescue skills.

All interested participants should meet upstairs at the lodge promptly at 11:00 am on Sunday, February 25th. Here we will discuss our Patrol, National Ski Patrol in general, what we expect from our ski patrollers and the level of training required. Following a Q&A session, we will go out and ski or snowboard!

We will assess all in attendance on several different skill sets:
-Personal skiing and/or snowboarding skills
-Interpersonal skills
-Ability to commit to ski patrol schedule

Based on our review of those in attendance, we will invite qualified participants to join us for our OEC and Ski Patrol training course this spring and summer. Prior to the event, please fill out the form at https://www.mountpleasantskipatrol.org/join.